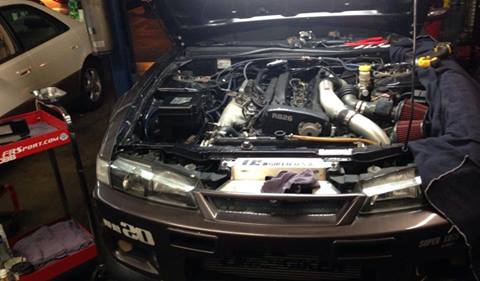 Rick's Japanese Car Care provides a variety of repair services, from scheduled routine maintenance checkups to wiring and electrical load testing. In total, our expertise covers well over a dozen areas that may or may not be in need of immediate attention.
We'd like to think of ourselves as the preventive maintenance specialists, mainly because we're aware that what can go wrong, eventually will, and we'll point it out to you if we see a potential problem.
Even through normal wear-and-tear, the wiring and electrical parts in your car can take a beating. Ignition switches, batteries, starters and alternators are usually the most common components in need of refurbishing or replacing from time to time. In most cases, we can diagnose the problem and perform these replacement services within a few hours' time.
Belt and hose replacement
Your belts and hoses may also require periodic inspections. Fan belts can easily be replaced; yet having one go out on you while you're driving can create a major inconvenience and cause further internal damage.
Power steering belts aren't necessarily as crucial if they give way, though you may have a little trouble turning the steering wheel. Either way, Rick's Japanese Car Care specialists will let you know how much life you have left on either of these belts. In addition, timing belt replacement services are also available.
Cooling system services
Your cooling system not only relies on the dependability of your water pump, it also requires having durable water hoses. Our main concerns involve the efficiency of your water pump, but also the radiator hoses and how well your thermostat is helping to control the temperature inside your engine.
We carry all the different sized hoses for every Japanese model on the road, and we'll be able to replace them in a hurry. If you're planning on driving long distances, it's a good idea to have your cooling system serviced beforehand, which includes hose inspection, a system flush and adding the right mixture of coolant to help keep your car from overheating.
Brake care services
We also specialize in complete brake care services, which includes disc, drum, and/or caliper replacement. The most common brake issue we encounter is worn-out pads that can be easily replaced.
Depending on how often you drive your car, brake pads will usually remain in good shape for at least 10,000 miles. Rotors can last throughout the life of the vehicle, provided that the brake pads are changed according to the specs of the make and model you own.
Steering, suspension and alignment
When it comes to the framework of your vehicle, steering, suspension, and alignment can all be affected by the many bumps in the road. Potholes can be a car's worst enemy and inadvertently alter the vehicle's alignment, which can lead to uneven wear-and-tear on the tires.
If your car begins to automatically veer in either direction, chances are that a simple alignment is necessary. Older or worn out shocks and struts can also add to the problem, meaning that it's a good idea to have these things looked at every so often, not to mention having your tires rotated.
Transmission auto care
Whether you have an automatic or standard transmission, our staff here at Rick's Japanese Car Care will be able to provide complete services for both.
Fluid and pan inspections are standard procedure, yet there's a bit more to the process than meets the eye. Often times, a road test will tell us what we need to know and we'll make our recommendations accordingly.
Quality service for all your car service needs
Here at Rick's Japanese Car Care, we provide all of the above services and much more. Aside from the basics, we've also been able to successfully take care of the more serious issues, such as blown head gaskets, fuel injectors, and complete engine overhauls as well.
If you're still not convinced regarding our dedication to excellence, feel free to read our customer reviews. Serving the Thousand Oaks/ Westlake area for over a decade, we're looking forward to serving your Japanese car needs for many years to come – call us at (805) 373-9895 today!